Asus RT-AC1200 Dual Band Router
Super-fast concurrent dual-band 802.11ac Wi-Fi at up to 1167 Mbps
Improved coverage and multi-device performance with four external 5dBi antennas — two each for the 2.4 GHz and 5 GHz bands
USB 2.0 port supports AiPlayer for music streaming
Help your children stay safe online with Parental Control
Super-fast concurrent Wi-Fi
Powered by 5th-generation Wi-Fi (5G Wi-Fi), the new 802.11ac chipset gives the RT-AC1200 super-fast wireless speeds. RT-AC1200 delivers up to 867 Mbps at 5 GHz, which is 3X faster than current 802.11n 2x2 routers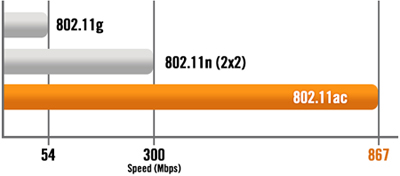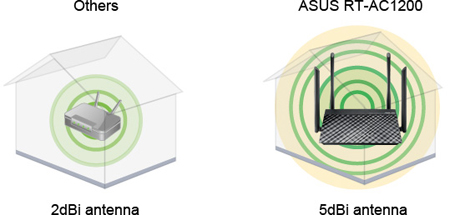 Improved coverage and multi-device performance
RT-AC1200 has four powerful external high-gain antennas, with two dedicated to each frequency band (2.4 GHz and 5 GHz). Not only does this more powerful signal give better coverage throughout the home, but when devices get a stronger signal, their Wi-Fi performance is improved too, especially if they're a long way from the router. So all your applications, from simple web browsing and email to more demanding ones like HD video streaming will work more efficiently and reliably, everywhere in the home!
Add external storage to your network
Make RT-AC1200 your media and file center. With USB 2.0 ports, you can connect external storage drives and stream media content to your networked PCs. Networking you storage devices lets you access them easier than ever before.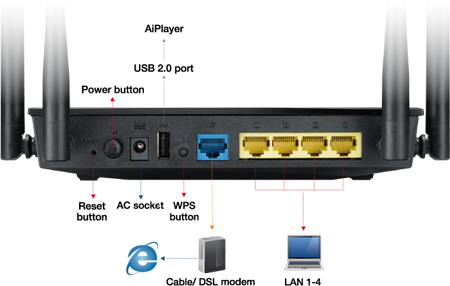 Easy 3-step setup
Use your laptop, tablet, or PC to set up your ASUS router effortlessly in only 3 easy steps. Simply connect the cables to the router, open a web browser, and follow the setup wizard to get connected to the internet in no time.

Monitor and restrict Internet activity for any user
Advanced parental control helps you protect your children from Internet addiction. You can restrict the times that each device can access the internet by applying scheduled time limits.

Take control of your media with convenient wireless streaming
With the ASUS AiPlayer app, RT-AC1200 becomes your home media hub. You can store all your music, videos and images in the attached USB storage and stream it wirelessly to any mobile device — no more running out of space on your mobile. Enjoy your collections in any room, and with support for almost any format you'll enjoy smooth, effortless streaming.